Snow and slipperiness solved by dehumidifier - Lineage Logistics
Snow and slipperiness are definitely a thing of the past at Lineage Logistics in the Belgian Ypres.
Situation before dehumidifying solution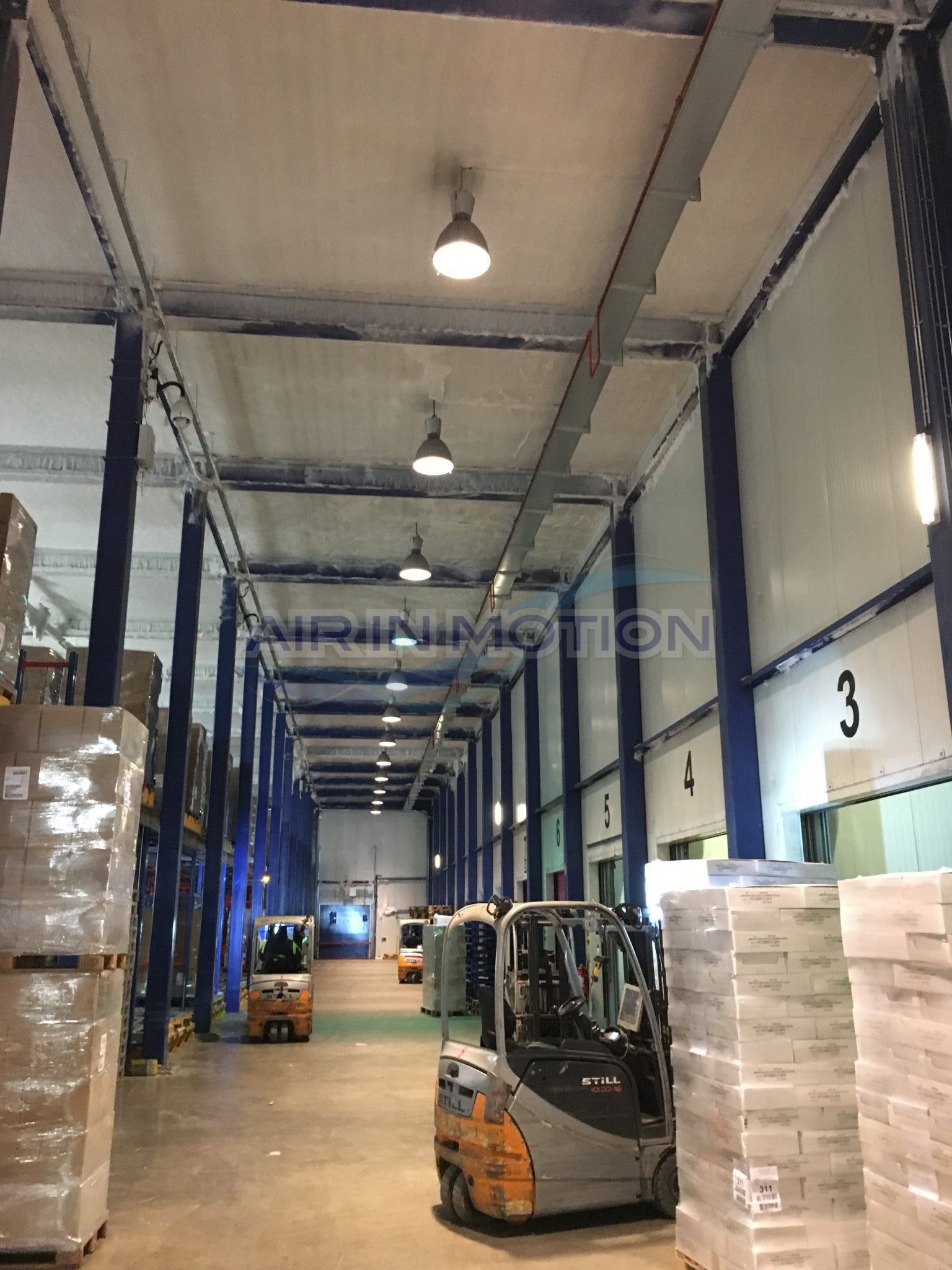 Situation after dehumidifying solution
Description of solution to prevent snow and slipperiness at Lineage Logistics
Snow and slipperiness are definitely a thing of the past at Lineage Logistics in the Belgian village Ieper. Since the inauguration of the DC in mid-2008, snow and slipperiness have been a problem throughout the year due to moisture penetration. After years of problems, Lineage Logistics, in collaboration with the Eindhoven University of Technology (TU / e), has analyzed the moisture problems. The origin is attributed to the many logistics movements that take place 24/7 within the busy logistics DC of Lineage Logistics.
In mid-2015, Lineage Logistics (at that time still called Partner Logistics), Air In Motion was called in to solve the snow and slipperiness problems through moisture entry at their DC in Ieper (Belgium). After providing a test setup, Air In Motion has developed the total concept whereby all dock shelters are equipped with a drying installation. This drying installation not only ensures that the moisture intake into the freezer is greatly reduced, but also that all additional problems caused by moisture entering in a freezing climate disappeared like snow in the sun. After several warm and humid years, it has been proven in practice that the solution realized by Air In Motion solves the moisture problems 100%.
Branche
Food, logistics
Location
Ieper (Belgium)
Advantages
- Prevent slipperiness on the work floor
- Prevent snow formation
- Prevent moisture damage to products
- Prevent moisture damage to the buildings
- Prevent faults on conveyor systems
- Saving energy
Temperatures
Expedition and automated warehouse: approximately -25 ° C
Solution by
AFIM® Dry - Industrial Dehumidifier (various dehumidifiers suitable for use in freezing environments and with energy saving control)
About Lineage Logistics 
Lineage Logistics (formerly Partner Logistics) is one of the largest companies in the field of refrigeration and freezing storage and logistics in the world. With branches in various continents, Lineage Logistics is an important partner in the storage of food products.
Lineage Logistics offers its customers the most complete range of temperature-controlled warehousing and distribution services in both North America and Europe with one of the largest facility networks in the United States. In order to increase the storage, logistics and transport solutions, Lineage Logistics offers its customers services with added value that create a satisfied customer experience with a high quality. Whether it concerns cross-docking, packaging, sorting or labeling, Lineage Logistics delivers tailor-made solutions for the food industry.
Source: https://www.lineagelogistics.com