Cold store and dehumidifying: The benefits
AFIM® Dehumidifying for cold store
Dehumidifying is the solution of choice for moisture control in vulnerable climates such as those of cold stores. In order to protect these climates, it is important to keep out moisture as much as possible. AFIM® Dehumidifiers can do this.
The benefits of AFIM® Dehumidifiers for cold store:
Ice-free entry: you will no longer have ice forming around the entryway, and slippery floors will therefore also be a thing of the past.
Less thawing needed: by keeping moisture from entering the freezer, your evaporators will have to do less defrosting.
Saving energy: you can save up to 60% of your energy, meaning your investment will often pay for itself within only a few years.
Saving money: an entryway free of snow, mist and ice saves times and hence money. You will no longer have to take precautions against slippery floors and your products will no longer be damaged by snow accumulating on the packaging.
Safety: transport between the climate-controlled zones can now be conducted without trouble or risk. This brings many advantages in vulnerable spaces such as cold stores.
Are you looking for a all-encompassing solution that allows for the air door to your cold store to remain open for transport without causing snow, mist or ice formation? Then click here to download our brochure on AFIM® Air Doors.
More information?
Need some solid advice regarding your cold store? Do you want to know more about how to save money in your situation? Then please contact us. We are happy to talk to you personally.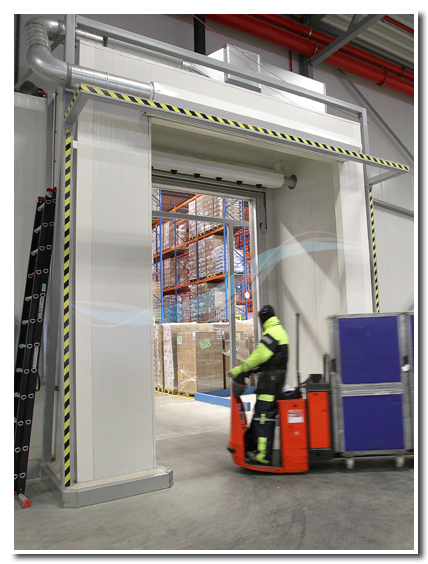 Apart from AFIM® Air Doors, AFIM® Dehumidifiers can also be used with other technologies, such as high-speed doors and strip curtains. Please contact us so we can talk about what the best solution would be in your particular situation.